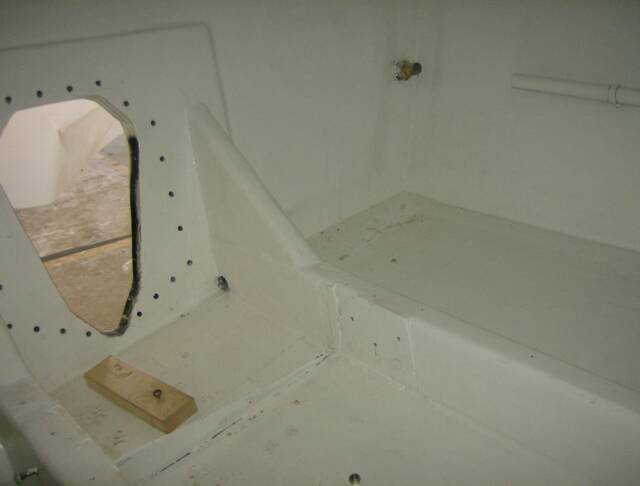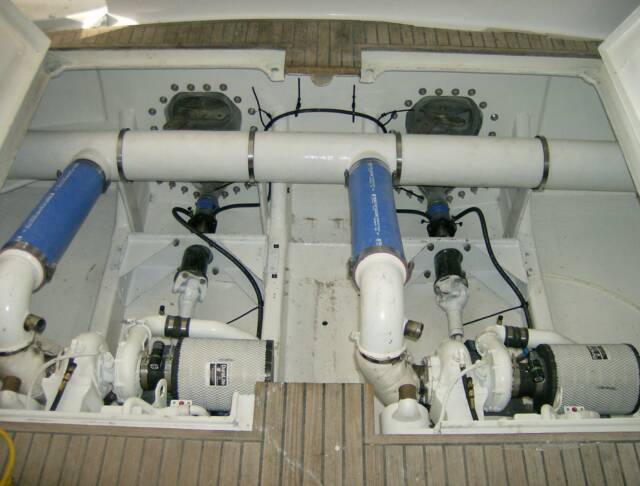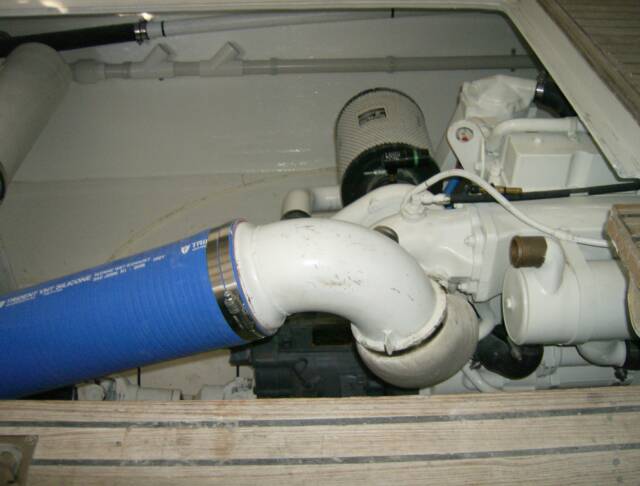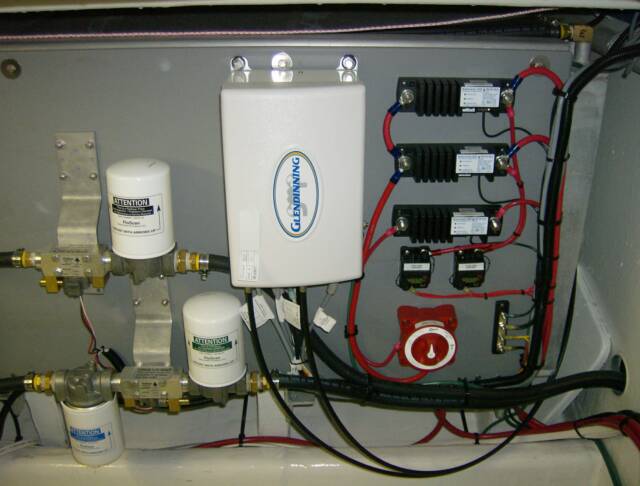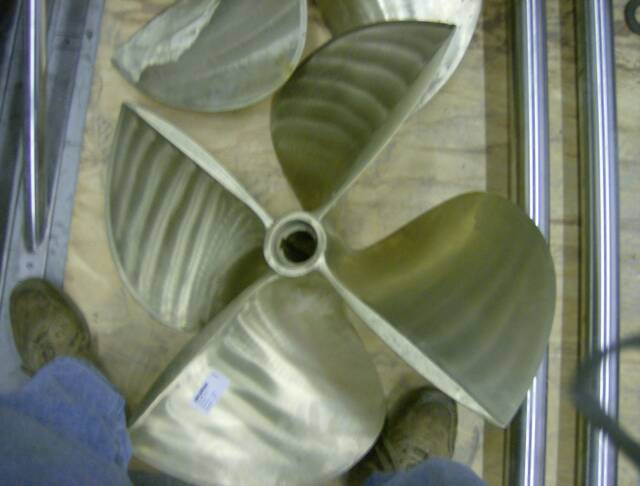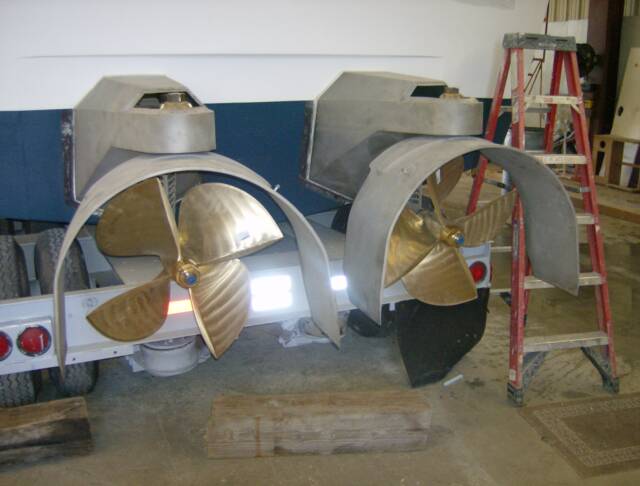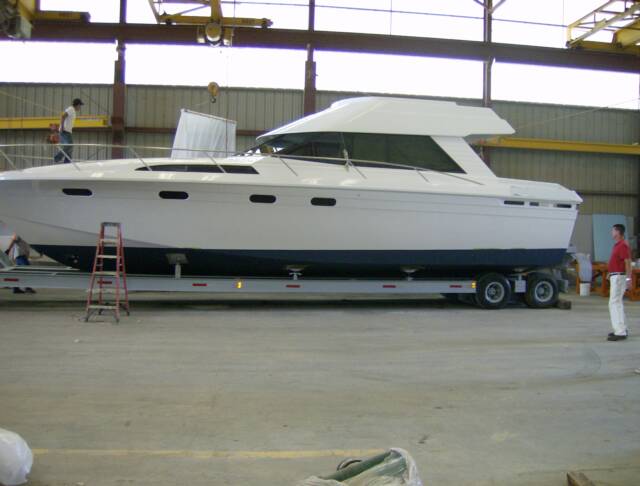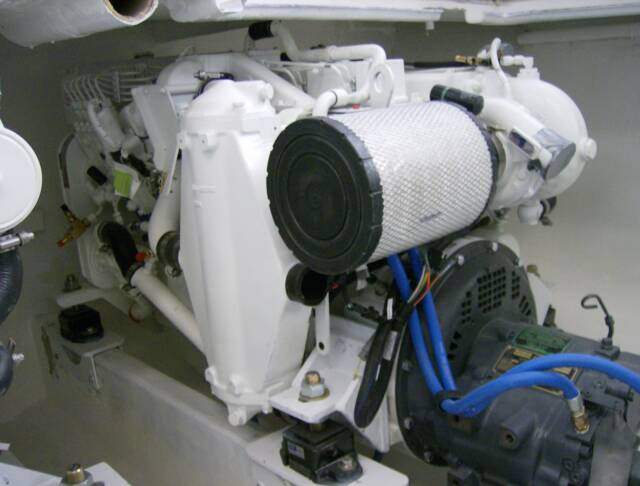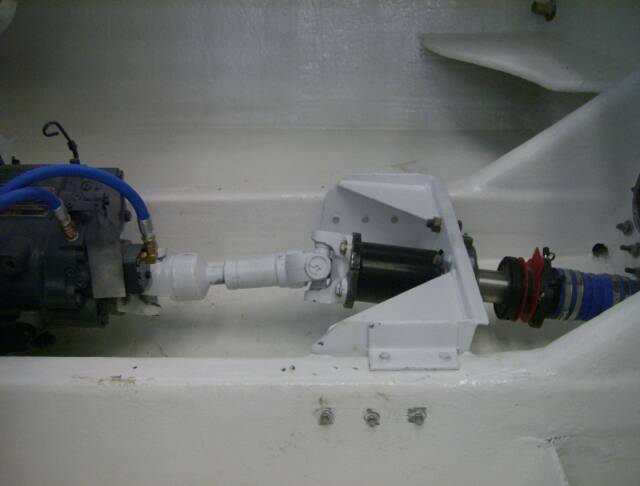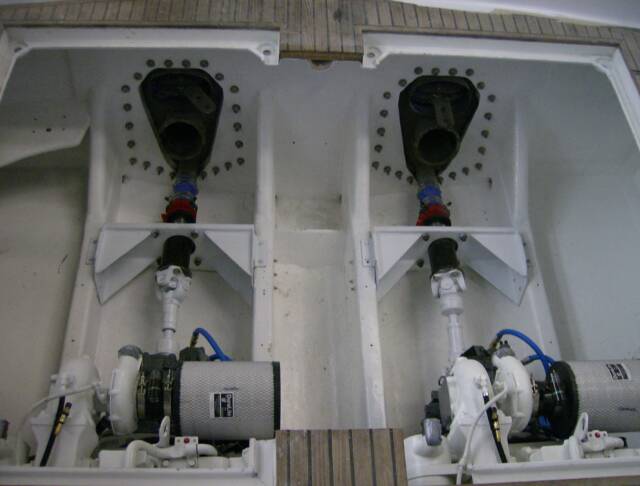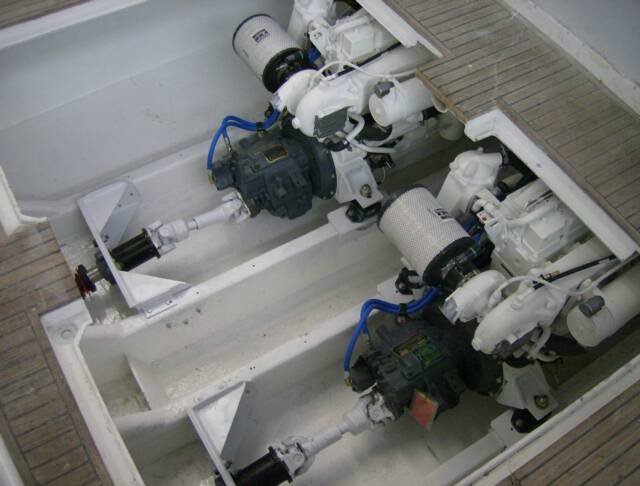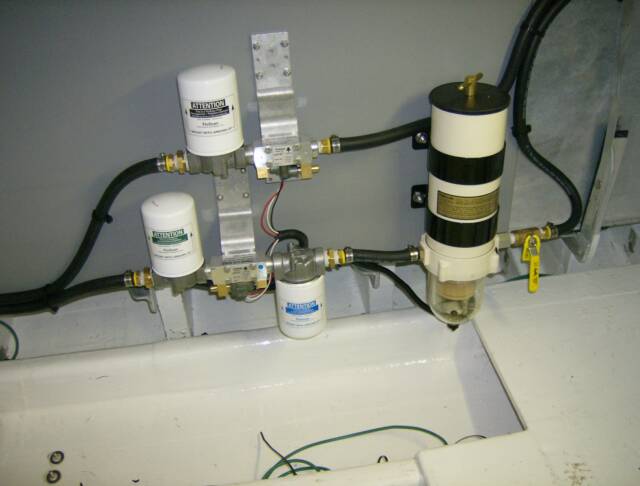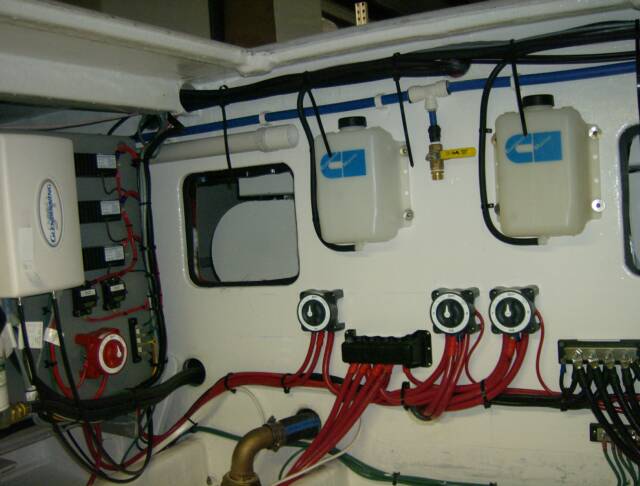 THIS PROJECT IS NEARLY ONE OF A KIND HERE IN THE UNITED STATES, SHE IS A APEX 5000 OR 47 NOBLECRAFT WHICH WAS BUILT IN NEW ZEALAND IN 1993. UNLIMITED YACHT SERVICES WAS CONTRACTED TO INSTALL ENGINES, REBUILD AND INSTALL SURFACE DRIVES AND REPLACE ALL OF THE MAJOR SYSTEMS.    REPOWERED WITH CUMMINS C-450s.         UNLIMITED YACHT SERVICES HAS HAD VAST EXPERIENCE WITH DIESEL/SURFACE DRIVE APPLICATIONS.

LEVI SURFACE DRIVE FRESHLY SAND- BLASTED AND READY FOR BEARINGS

SURFACE PIERCING ( CLEVER TYPE) PROPS

WE USED CUSTOM THORDON BEARINGS FOR SHAFTS AND RUDDERS ON LEVI DRIVES

THIS SYSTEM USES A KARDAN JACK SHAFT TO CONNECT TRANSMISSIONS TO SURFACE DRIVE SHAFTS

THE CUMMINS C-450s FIT NICELY INTO THE SPACE AVAILABLE

WE MADE CUSTOM EXHAUST RISERS FROM STOCK ELBOWS WHICH CONNECT TO ATHWARTSHIP SURGE TUBE, THEN THE EXHAUST IS DISCHARGED OUT OF THE DRIVES IN FRONT OF PROPELLERS TO ASSIST  IN CREATING CAVITATION FOR THE SURFACE PIERCING PROPS IN DISPLACEMENT AND SEMI-DISPLACEMENT MODES

THE MACHINERY COMPARTMENT IN FRONT OF THE ENGINE ROOM IS WHERE WE LOCATED THE PRIMARY12-VDC DISTRIBUTION/CHARGE RELAYS, HOT AND GROUND BUSES, GLENDINNING SMART ACTUATORS, FUEL MANAGEMENT VALVE SYSTEM, FLO-SCAN SENSORS, GENERATOR

HERE YOU CAN SEE THE CHARGING RELAYS,FLO-SCAN SENSORS & DAMPNERS,GLENDINNING ENGINE CONTROL -SMART ACTUATORS

OUTBOARD OF THESE GRAY PANELS ARE THE PORT AND STARBOARD FUEL TANKS.

THIS VESSEL HAS NOT GONE TO THE WATER YET BUT RECORDS SHOW THAT WITH THE OLD

385HP VOLVO TMAD 71s THAT SHE CRUISED AT 28 KNOTS AND 35KNOTS WIDE OPEN THROTTLE.  IT WILL BE INTERESTING TO SEE WHAT SHE DOES WITH THE CUMMINS C-450s